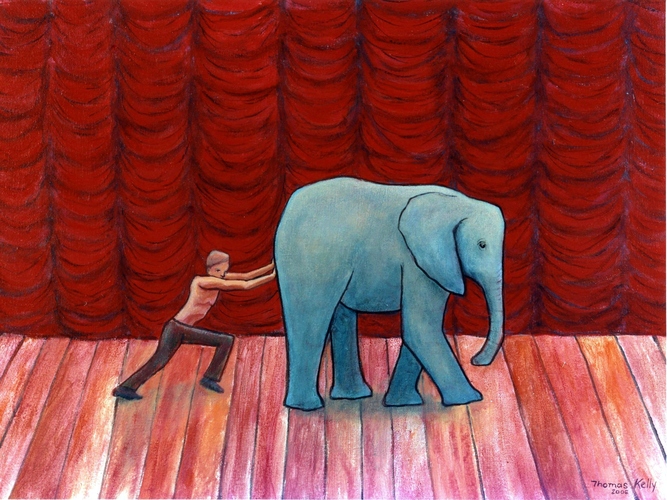 Thomas Kelly
Thomas Kelly is an award winning, New Jersey, USA based painter. Widely collected, his work has a signature style, which has its roots in Expressionism. His colorful, narrative, acrylic paintings on canvas often create a dialogue with the viewer. His deceptively simplistic paintings are both critically acclaimed and very approachable by everyday viewers. More than 350 of Kelly's original paintings have been collected.
Artist Statement 2019
"My paintings are of common scenes, every day occurrences in which people struggle to establish and maintain relationships. It is these universal emotions and situations which most interest me."
The paintings are acrylic on canvas, which lends to the way I work. The idea begins from a tiny sketch. That sketch will have the emotional feeling or gesture that first intrigued me.
I encourage viewers to participate in the narrative by placing themselves inside my scenes and characters. When asked by viewers if their interpretation is the true one, I say, 'The paintings must stand on their own.' I don't tell them that their stories often rival my own."
Gallery Representation
Walter Wickiser Gallery, New York City
The Artful Deposit Gallery, Bordentown, NJ
The Bethlehem House Gallery, Bethlehem PA
Beauregard Fine Art, Rumson NJ
Please contact the galleries for commission inquiries.

​Thomas Kelly
Born 1963 Trenton NJ
Solo Exhibitions
2016 Bethlehem House Gallery, Bethlehem, Pennsylvania
2014 The Artful Deposit Gallery, Bordentown, NJ. The Sports Icon Series
2013 The Gallery at Chapin, Princeton NJ
2012 The Artful Deposit Gallery, Bordentown, NJ
2008 Art & Sole Gallery, Avon-by-the Sea, NJ
2007 The Artful Deposit Gallery, Bordentown, NJ
2004 The Artful Deposit Gallery, Bordentown, NJ
1999 The Artful Deposit Gallery, Bordentown, NJ
1999 The Urban Word Café, Trenton, NJ
1998 TAWA Invitational, Trenton City Museum, Trenton, NJ
Two and Three Person Exhibitions
2002 Trenton City Museum with Isabella Natale and Jack Knight, Trenton NJ
2000 The Gallery at Mercer County College with Loring Hughes, W. Windsor NJ
Selected Group Exhibitions
2017 Atlantic Highlands Yacht Club, Atlantic Highlands, NJ
2015 Trip the Light Fantastic, Gallerie Chiz, Pittsburgh, PA
2015 Impressions, Art of the Print, Trenton City Museum, Trenton NJ,
2012 Trenton Makes, Prince Street Gallery, NY, NY
2009 Confluence of Culture IV, Walter Wickiser Gallery, NY, NY
2008 Just the Figure, Walter Wickiser Gallery, NY, NY
2003 Artstrings, traveling exhibition with the New Jersey Symphony Orchestra
2001 Trenton Artists at NJ State Museum, Trenton, NJ
1997 Traditional Methods, Printmaking Council of NJ, Somerville, NJ
1997 Images on Paper, Trenton City Museum, Trenton, NJ
1996 Trenton Artists, Johnson & Johnson, New Brunswick, NJ
1995 Painting Exhibition, Princeton Art Association, Princeton, NJ
1994 Ellarslie Open, Trenton City Museum, Trenton, NJ
1994 NJ Small Works, Mariboe Gallery, Hightstown, NJ
Selected Awards
2009 Paxson Hill Award, Phillips Mill Exhibition, New Hope, PA
2000 Jurors Award, Ellarslie Open, Trenton City Museum, Trenton, NJ
1997 Fine Arts Achievement Award, Mercer County College, West Windsor, NJ
1997 Honorable Mention, Monmouth Arts Council Annual Exhibition, Red Bank, NJ
1995 Award of Merit, "Works on Paper", Center for the Arts, Moorestown, NJ
1995 Best in Show, Painting, Student Exhibit, Mercer County College, W. Windsor, NJ
1994 Award of Merit, "Works on Paper", Center for the Arts, Moorestown, NJ
Selected Public Collections
Evel Knievel Museum, Topeka, Kansas
Copelouzos Family Art Museum, Athens Greece
Thomas Edison State College, Trenton, NJ
Trenton City Museum, Trenton, NJ
Mercer County Community College, West Windsor, NJ
Marriott Hotel Lafayette Yard, Trenton, NJ
Education
1997 Associate Degree in Fine Arts, Mercer County College, West Windsor, NJ
1988 Tool & Die Apprenticeship, KNF Neuberger, Inc., Princeton, NJ

Selected Lectures
2018 Notre Dame High School, Lawrenceville, NJ
2016 50th Annual NJ Senior Citizen Art Exhibit
2013 Chapin School, Lawrenceville, NJ
2012 Princeton Rotary, Nassau Club, Princeton NJ
2012 The Artful Deposit Gallery, Bordentown NJ
2012 Morgan School, Mercerville NJ
2012 Trenton Museum Society, Trenton NJ
2010 Trenton Artists Workshop Association, Trenton NJ
2010 Penn State University, Malvern PA
2009 Artists of Bristol, PA
2008 The Artful Deposit Gallery, Bordentown NJ
2008 Allentown Art Guild, Allentown NJ
2002 Trenton City Museum, Trenton NJ
2000 Mercer County College, West Windsor NJ